Summertime is upon us, and that means more outdoor activities with our furry friends. But with the warmer weather also comes the increased risk of tick bites, which can be harmful to both dogs and humans. As a responsible pet owner, it's important to know how to identify and remove ticks from your dog. In this article, we'll cover everything you need to know about tick prevention, from the signs of a tick bite to effective removal methods. Don't let ticks ruin your summer fun – arm yourself with the knowledge and tools to protect your beloved pup from these pesky parasites. So grab a cup of coffee and let's dive into Tick Prevention 101.
It is so important to know how to check dogs for ticks!
The dangers of ticks for dogs
Ticks are small parasitic insects that feed on the blood of animals, including dogs. They are found in grassy and wooded areas and are most active during the warmer months. Ticks can transmit a range of diseases to dogs, including Lyme disease, Rocky Mountain spotted fever, and Ehrlichiosis. These diseases can cause a range of symptoms, including fever, joint pain, lethargy, and loss of appetite. In severe cases, tick-borne diseases can be fatal.
Ticks are most commonly found on the head, neck, and ears of dogs. They can also be found on other parts of the body, such as the legs, underbelly, and tail. It's important to regularly check your dog for ticks, especially after spending time outdoors in areas where ticks are known to be prevalent.
How to identify ticks on your dog
The Global Lyme Alliance has published an excellent graphic on how to check your dog for ticks!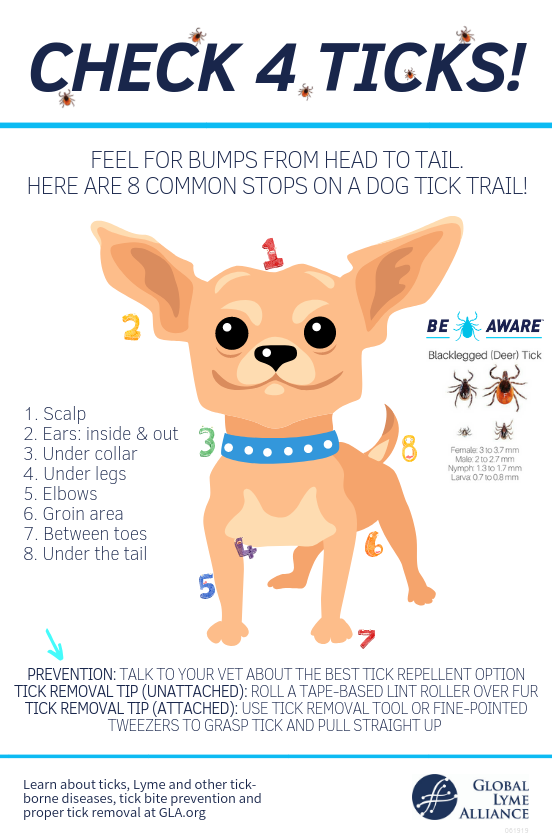 Tools and equipment needed for tick removal
Before attempting to remove a tick from your dog, you'll need to gather a few tools and supplies. Here's what you'll need:
– A pair of fine-tipped tweezers or a tick removal tool
– Rubbing alcohol
– Gloves (optional)
– A jar or plastic bag for disposing of the tick
TickEase offers a nice kit on Amazon. Please note that we are an Amazon Associate and may earn a small commission on any purchases.
It's important to use fine-tipped tweezers to ensure that you can grasp the tick's head and mouthparts without crushing its body. Crushing the tick can cause it to release harmful bacteria into your dog's bloodstream.
Step-by-step guide for removing ticks safely
1. Put on gloves, if desired, to protect your hands from any bacteria or pathogens that may be present on the tick.
2. Grasp the tick's head as close to your dog's skin as possible with the tweezers.
3. Pull the tick straight out, using a steady, even pressure. Do not twist or jerk the tick, as this can cause the mouthparts to break off and remain embedded in your dog's skin.
4. Once the tick is removed, place it in a jar or plastic bag filled with rubbing alcohol. This will kill the tick and prevent it from reattaching to your dog or spreading disease.
5. Clean the bite area with rubbing alcohol or soap and water.
6. Monitor your dog for any signs of tick-borne illness, such as fever, lethargy, or loss of appetite.
Tick prevention methods
Preventing ticks from biting your dog is the best way to protect them from tick-borne illnesses. Here are some effective tick prevention methods:
– Keep your dog on a tick prevention medication. There are many prescription and over-the-counter tick prevention medications available, including topical treatments, oral medications, and collars.
– Check your dog for ticks regularly. Be sure to check all areas of your dog's body, paying close attention to the head, neck, and ears.
– Keep your yard and outdoor living areas tidy. Ticks thrive in tall grass, leaf litter, and other debris, so keep your yard well-maintained and free of debris.
– Avoid walking your dog in areas where ticks are known to be prevalent, such as wooded areas or tall grass.
– Use a tick repellent spray. There are many natural tick repellent sprays available that can help keep ticks away from your dog.
Tick prevention products for dogs
Each product links to Amazon search results:
– Frontline Plus. This topical treatment kills fleas, ticks, and lice and lasts for 30 days.
– NexGard. This chewable tablet kills fleas and ticks and lasts for 30 days.
– Seresto collar. This collar releases a continuous stream of tick and flea repellent for up to 8 months.
– Bravecto. This oral medication kills fleas and ticks and lasts for 12 weeks.
When to take your dog to the vet for tick-related issues
If you're unsure how to remove a tick or if your dog is showing signs of tick-borne illness, it's best to take them to the veterinarian. Your vet can perform diagnostic tests to check for tick-borne diseases and can recommend the best course of treatment.
If your dog is showing signs of an allergic reaction to a tick bite, such as swelling or difficulty breathing, seek veterinary care immediately.
Conclusion and final thoughts
Ticks are a common problem for dogs during the warmer months, but with the right knowledge and tools, you can protect your furry friend from these pesky parasites. Regular tick checks, tick prevention medications, and natural tick prevention remedies can all help keep ticks at bay. If you do find a tick on your dog, be sure to remove it safely and monitor your dog for any signs of tick-borne illness. With these prevention methods in place, you and your dog can enjoy a fun and safe summer together.