If you're reading this, chances are you are at least somewhat familiar with Hip Dysplasia in dogs. If you aren't here is an article by the American Kennel Club on the topic:
Hip Dysplasia In Dogs – American Kennel Club (akc.org)
Our goal is to provide three highly rated yet affordable options for you to view. the most expensive on this list is the Sealy (around $100) and the least expensive is by Barkbox (under $40).
Sealy Lux Pet Dog Bed
Amazon Rating: 4.6/5 stars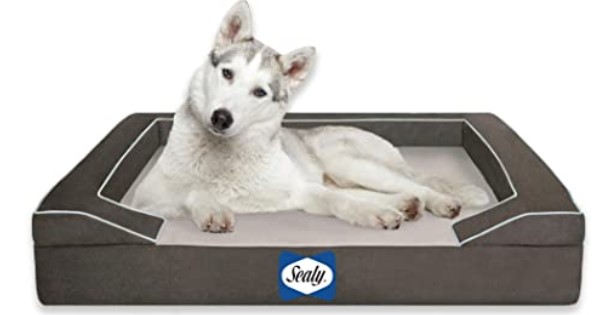 Sealy has been around for almost 150 years and is regarded as "America's number 1 mattress brand". Until recently, I did not realize that they also made pet beds!
Here are the features of the Lux Dog Bed – please note that as an Amazon Associate, we may earn a small commission on any purchases.
QUAD ELEMENT: Premium orthopedic dog bed with Quad Element Foam for ultimate comfort and support
ORTHOPEDIC SUPPORT: High quality therapeutic bed provides support for dogs of all ages and is comfortable for dogs with arthritis, joint or bone problems
MACHINE WASHABLE: Removable cover is machine washable
ODOR ABSORBING: This Lux bed is built with a Pro-Charcoal base to help absorb orders, keeping your dog bed fresh
For questions, please contact support@intlpetgroup
Furhaven Orthopedic Dog Bed
Amazon Rating: 4.5/5 stars
Furhaven offers a plethora of features for this particular bed. It is available in 22 different colors and five different sizes! Additionally, they also offer four bed styles; orthopedic foam, cooling gel foam, fiberfill, and memory foam. Here are additional features:
Color shade may vary due to lighting
DESIGNED FOR PETS: The classic bolstered sofa design promotes ultimate comfort and security, providing high-loft orthopedic cushion support as well as a super cozy nestling and burrowing space for dogs and cats
SLEEP SURFACE: The main sleep surface is lined with cuddly soft, plush faux fur, while the supportive bolsters are wrapped in easy-care suede; both materials are gentle on noses and paws for enhanced snuggling and burrowing comfort
EASY ON JOINTS: The egg crate orthopedic foam base helps cushion pressure points and improve air circulation, while the fluff-filled bolster railings support the neck, back, hips, and joints; both help to ease discomfort and encourage restful sleep
PRODUCT DETAILS: Espresso; Large, 36″ x 27″ x 6.5″ (3″ Foam; Sleep Surface: Approx. 28″ x 23″)
AVAILABLE VARIANTS: The bed comes in Espresso, Gray, Deep Pool, and Almondine; it's also available in Small, Medium, Large, Jumbo, and Jumbo Plus
EASY CARE: The removable dog bed cover is completely machine washable for your convenience; for more specific washing instructions, please refer to the hang tag and/or seam label (if applicable)
CUSTOMER ASSURANCE: The product comes with a 90-day limited coverage against material defects and may also qualify for our 60-day Worry-Free Program; restrictions apply: purchases from unauthorized 3rd-party resellers may not be covered by Furhaven
Barkbox Memory Foam Platform Dog Bed
Amazon Rating: 4.5/5 Stars
This budget-friendly option is available in five sizes and seven colors. Here are the features:
Perfect Size for Your Pup: Our medium platform dog bed is 29" x 18" x 3″ and comfortably fits breeds like Pug, Boston Terrier, Shih Tzu, Dachshund, and other similarly sized dogs up to 40 lbs.
High-Quality Comfort: The therapeutic cooling gel memory foam comforts your dog by relieving body aches, joint pain, hip dysplasia, and arthritis.
Water-Resistant & Machine-Washable Cover: Keep your dog's bed looking and smelling fresh and clean. The water-resistant, zippered cover slides off seamlessly for convenient clean!
The Modern Mattress Bed: This fabulous platform mattress bed will quickly become your pup's favorite. With both therapeutic and cooling memory foam, this bed is easy to step into and even easier to fall asleep on. And, every bed comes with a free toy and some BARK magic, so your pup is bound to love it. Just make sure to give the mattress up to 72 hours to fully expand.
100% Happiness: From the makers of BarkBox, this bed and all of our other products are made by dog people to make dogs and their people the happiest they can be. And with U.S.-based customer support, we're always here to help.
Conclusion
Thank you for stopping by! Please leave and suggestions or feedback in the comments section.