When it comes to dog training books, your local library is a great option for free resources. Don't forget, many libraries also offer free apps so that you can read books on your devices. Having said that, Amazon is also a great resource for dog training books. Please note that as an Amazon Associate I earn from qualifying purchases. This helps "keep the lights" on for this blog.
1. Dog Training For Dummies Kindle Edition
Amazon Rating: 4.4 Stars
When it comes to learning about almost ANYTHING, the For Dummies series is always a great starting point. Below are some reviews; click here to take a look at the product listing.
"I've looked at many books on dog training and this one is the easiest and most practical to use. I've given it a gifts twice and both dog owners used it and got good results. We're all very pleased with this book! I've had very good luck with the "for Dummies" series of books and this one is no exception. If you get/have a dog you need this book!"
"it was easy to use, if you had a problem you could look up the answer again and again. many helpfull tips."
"Great book for the trainer thats about to take the certification test. Detailed and has great tips in there too!!"
Don't forget that Amazon allows you to view a free sample on your Kindle reader or app!
2. Clicker Training for Dogs: Master Basic Training, Common Cues, and Fun Tricks in 15 Minutes a Day by Hannah Richter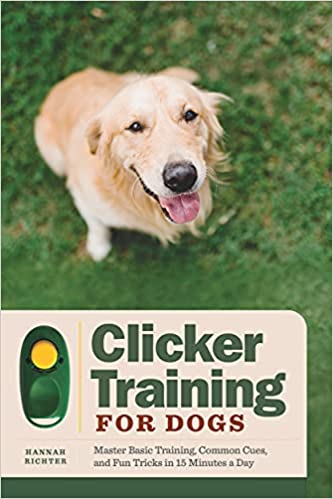 Amazon Rating: 4.4 Stars
If you live a busy lifestyle, this book is perfect for you! Clicker training is a highly effective method of training dogs and puppies. Click here to view the product page. Here are the editorial reviews of the book:
"Hannah's clear, concise, and thorough instructions are a surefire way to bring out the best in your dog! Her expertise and enthusiasm for helping pet parents and their pups learn to play the training game together shines through on every page of this book." ―Andrea Arden, founder and CEO of Andrea Arden Dog Training
"Clicker training is a proven method to create a common language between you and your dog. Hannah's simple step-by-step guide will help you build your dog's confidence, stimulate them intellectually, and deepen your bond. The reward is tremendous, but it does take time and patience from the human. But this is true with developing any loving relationship, regardless if your friend has four legs or two." ―Karen Schwichtenberg, co-founder of Fig & Tyler
"This book is for everyone who values having a well-trained dog as well as creating a strong and positive relationship with their dog. Hannah Richter clearly explains how this can be done easily and effectively through clicker training. I highly recommend it to all of my clients, friends, and family." ―Katrina Krings, professional dog trainer
3. The Puppy Primer by Patricia McConnell & Brenda Scidmore
Amazon Rating: 4.6 Stars
Dr. McConnell is a columnist for Bark Magazine and used to have a show on Animal Planet and Brenda Scidmore is a dog behavior consultant. If anyone is qualified to offer advice on puppy dog training, it is these two! Click here to view the product page.
Check out some feedback from reviewers who purchased the book:
"This book changed my life-with-pup immediately and my understanding of dog training forever. It is the best-written concise manual to basic training I've ever encountered. I recommend it to anyone, even an experienced owner, who has a dog and wants to understand him better."
"Very practical and easy to follow guide for raising a well-adjusted dog, from the beginning."
"Definitely a great reference for new dog owners!!"
That concludes our list! Thank you for stopping by, and if you have any books that we should add to the list, please mention them in the comment section.