Keeping your furry friend's smile shining bright is not just about aesthetics – it's crucial for their overall health and wellbeing. That's right, we're talking about brushing your dog's teeth! While it may seem like a daunting task, a regular dental care routine is essential to prevent dental diseases and ensure a long, healthy life for your canine companion.
Just like humans, dogs are susceptible to plaque and tartar buildup, which can lead to gum disease, tooth decay, and even systemic health issues. With a few simple steps and the right approach, you can easily incorporate toothbrushing into your dog's daily routine. In this article, we'll explore why brushing your dog's teeth is so important and provide you with expert tips and techniques to make the process as stress-free and effective as possible.
The importance of dental care for dogs
Just like humans, dogs are prone to dental issues that can be painful and affect their overall health. Unfortunately, dental care is often overlooked when it comes to our furry friends. According to the American Veterinary Dental College, by the age of three, most dogs show signs of dental disease. This is alarming considering that dental disease in dogs can lead to serious health problems, including heart disease, kidney infections, and liver damage.
Maintaining good dental hygiene for your dog is essential for preventing these complications. Regular brushing is the most effective way to remove plaque and tartar from your dog's teeth, preventing the buildup that can lead to gum disease and tooth decay. It also helps to freshen their breath, ensuring those slobbery kisses are a little more pleasant.
Common dental issues in dogs
Before we dive into the importance of brushing your dog's teeth, let's take a closer look at some common dental issues that can affect our furry friends. One of the most prevalent dental problems in dogs is periodontal disease, which affects the gums and supporting structures of the teeth. This disease is caused by the buildup of plaque and tartar, leading to inflammation, redness, and swelling of the gums. If left untreated, periodontal disease can result in tooth loss and even bone damage.
Another common dental issue in dogs is tooth decay. Just like humans, dogs can develop cavities, especially in their molars. Cavities are not only painful but can also lead to infections and abscesses if left untreated. Additionally, dogs can also suffer from broken or fractured teeth, which can be painful and require veterinary intervention.
By understanding these common dental issues, you can see why it is crucial to prioritize your dog's oral health and establish a regular teeth brushing routine.
Benefits of brushing your dog's teeth
Brushing your dog's teeth offers a range of benefits beyond just preventing dental diseases. Let's take a closer look at why it's worth the effort:
1. **Prevents dental diseases**: As mentioned earlier, regular brushing helps remove plaque and tartar, preventing the development of gum disease, tooth decay, and other dental issues.
2. **Saves money**: By incorporating teeth brushing into your dog's routine, you can reduce the frequency of expensive dental cleanings at the veterinarian's office. Prevention is always better than cure! If you are having trouble affording care for your pet, visit our resource list.
3. **Improves overall health**: Poor oral health doesn't just affect your dog's mouth; it can have a negative impact on their overall health. By maintaining good dental hygiene, you can help prevent potential systemic health issues associated with dental diseases, such as heart and kidney problems.
4. **Enhances quality of life**: Imagine having a toothache or sore gums – it's not pleasant! By keeping your dog's teeth and gums healthy, you are ensuring they can chew their food comfortably and enjoy their meals.
5. **Freshens breath**: Let's face it, bad breath is not something you want to experience when cuddling up with your furry friend. Regular brushing can help combat bad breath and make those snuggles a little more enjoyable.
Now that we understand the importance and benefits of brushing your dog's teeth, let's move on to the practical aspects – how often should you brush their teeth, and what tools do you need?
How often should you brush your dog's teeth?
The frequency of brushing your dog's teeth depends on various factors, including their age, breed, and overall oral health. In an ideal world, daily brushing would be optimal. However, we understand that this may not always be feasible for everyone. As a general rule of thumb, aim to brush your dog's teeth at least three times a week. This frequency should help maintain good oral hygiene and prevent the buildup of plaque and tartar.
It's important to note that if your dog already has significant dental issues, your veterinarian may recommend a more frequent brushing schedule or additional dental care measures. Always consult with your vet to determine the best dental care routine for your dog's specific needs.
Tools and supplies needed for brushing your dog's teeth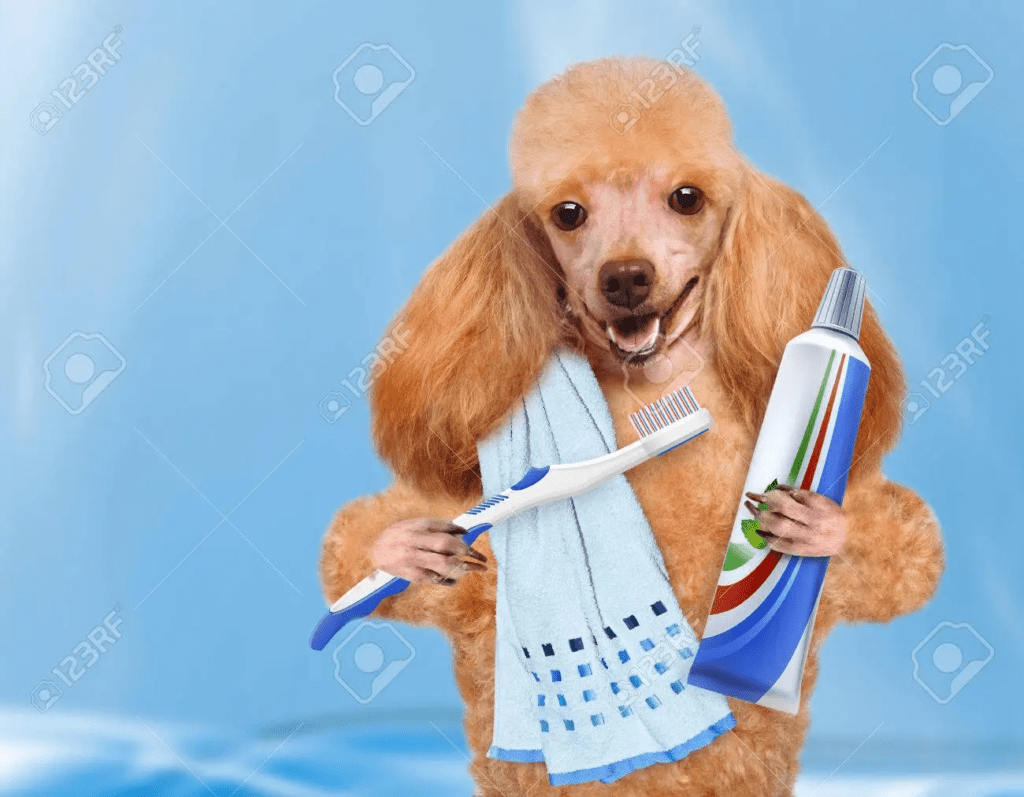 Before you start brushing, you'll need to gather a few essential tools and supplies. Here's what you'll need:
1. **Dog toothbrush**: It's crucial to use a toothbrush specifically designed for dogs. These brushes have softer bristles and come in various sizes to accommodate different breeds and sizes of dogs.
2. **Dog toothpaste**: Never use human toothpaste for your dog, as it contains ingredients that can be toxic to them. Opt for a dog-specific toothpaste that comes in flavors your pup will enjoy, such as poultry or beef.
3. **Finger brush or gauze**: Some dogs may be more comfortable with a finger brush or gauze wrapped around your finger for the initial introduction to toothbrushing. These options can provide a gentler approach.
4. **Treats and positive reinforcement**: Having treats on hand to reward your dog during and after each brushing session can help create a positive association with the experience.
Now that you have gathered the necessary tools and supplies, it's time to learn how to brush your dog's teeth effectively.
Step-by-step guide to brushing your dog's teeth
1. **Introduce the toothbrush**: Start by gently introducing the toothbrush to your dog's mouth without toothpaste. Allow them to sniff and lick the toothbrush to familiarize themselves with it.
2. **Gradually introduce toothpaste**: Once your dog is comfortable with the toothbrush, apply a small amount of toothpaste to the bristles. Allow your dog to taste the toothpaste and get used to the flavor.
3. **Brushing technique**: Lift your dog's lips to expose their teeth and gums. Use gentle, circular motions to brush the outer surfaces of the teeth and along the gumline. Aim for a 45-degree angle to effectively remove plaque and tartar.
4. **Focus on the back teeth**: The back teeth are more prone to plaque buildup, so pay extra attention to them during brushing. Make sure to brush both the outer and inner surfaces of the teeth.
5. **Be patient and gentle**: Take your time and be patient with your dog. If they show signs of discomfort or resistance, take a break and try again later. It's important to build trust and make toothbrushing a positive experience for your furry friend.
6. **Reward and praise**: After each successful brushing session, reward your dog with a treat and lots of praise. Positive reinforcement will help reinforce the behavior and make future brushing sessions easier.
7. **Monitor their dental health**: Regularly inspect your dog's teeth and gums for any signs of dental issues or changes. If you notice anything unusual, such as redness, swelling, or excessive tartar buildup, consult your veterinarian.
Check out this video on how to brush your dog's teeth. This is one of the better demonstrations we were able to find, and the video was recorded by the Mainely Veterinary Dentistry in Maine:
Tips for making the teeth brushing process easier
Brushing your dog's teeth may not always be a walk in the park. Here are some tips to make the process easier and less stressful for both you and your furry friend:
1. **Start early**: Introduce toothbrushing to your dog as early as possible to get them accustomed to the process. Puppies are generally more receptive to new experiences, making it easier to establish a teeth brushing routine.
2. **Take baby steps**: If your dog is resistant to toothbrushing, start by simply touching their teeth and gums with your finger. Gradually introduce the toothbrush and toothpaste over time.
3. **Make it a positive experience**: Use treats, praise, and lots of patience to create a positive association with toothbrushing. Turn it into a bonding activity and an opportunity for extra love and attention.
4. **Be consistent**: Consistency is key when it comes to maintaining good dental hygiene. Stick to a regular teeth brushing schedule to ensure optimal oral health for your dog.
5. **Consider professional dental cleanings**: Regular at-home brushing is essential, but it may not always be enough, especially for dogs with existing dental issues. Professional dental cleanings performed by a veterinarian under anesthesia may be necessary to address more advanced dental problems.
Alternative dental care options for dogs
While brushing is the gold standard for maintaining good oral health in dogs, there are alternative options available for those who struggle with toothbrushing or have specific dental needs. Here are a few alternatives to consider:
1. **Dental chews and treats**: There are a variety of dental chews and treats on the market that can help reduce plaque and tartar buildup. Look for products that carry the Veterinary Oral Health Council (VOHC) seal of approval for added assurance of their effectiveness.
2. **Water additives**: Dental water additives can be added to your dog's drinking water to help fight plaque and freshen their breath. They work by disrupting the bacteria that contribute to dental diseases.
3. **Dental wipes or pads**: If your dog absolutely refuses a toothbrush, dental wipes or pads can be used to gently clean their teeth and gums. These products are designed to remove plaque and debris without the need for brushing.
4. **Oral rinses and sprays**: Oral rinses and sprays can be used as a supplement to brushing or as an alternative for dogs who won't tolerate a toothbrush. These products help combat bacteria in the mouth and freshen breath.
Remember, while these alternatives can be beneficial, they should not replace regular teeth brushing. Consult with your veterinarian to determine the best dental care options for your dog.
Signs of dental problems in dogs
Regular dental care and monitoring are essential for catching and addressing dental issues early on. Keep an eye out for the following signs that may indicate dental problems in your dog:
1. **Bad breath**: Persistent bad breath, also known as halitosis, is often a sign of dental disease in dogs.
2. **Red and swollen gums**: Healthy gums should be pink, not red or swollen. Inflammation and swelling can indicate gum disease.
3. **Bleeding gums**: If you notice blood on your dog's toys or during toothbrushing, it may be a sign of gum disease or other dental issues.
4. **Difficulty eating**: Dental pain or discomfort can make it difficult for your dog to chew their food. If they are showing signs of reluctance or discomfort while eating, it's worth investigating their dental health.
5. **Loose or missing teeth**: Loose or missing teeth are clear indicators of dental problems and require immediate attention from a veterinarian.
If you notice any of these signs or suspect your dog may have dental issues, don't hesitate to schedule a dental check-up with your veterinarian. Early detection and intervention are crucial for maintaining your dog's oral health.
Conclusion
Brushing your dog's teeth is not just a cosmetic concern; it is an essential part of their overall health and wellbeing. By establishing a regular teeth brushing routine, you can prevent dental diseases, improve their quality of life, and potentially save money on expensive dental treatments. Remember to be patient, use positive reinforcement, and consult with your veterinarian for guidance on the best dental care practices for your dog's specific needs. With a little effort and a lot of love, you can keep those pearly whites shining and ensure a long, healthy life for your furry friend. So grab that toothbrush and get ready to embark on your dog's dental care journey!